Full & Partial Dentures in Bardstown
At Walton Family Dentistry, we're always here to help you get your smile back after tooth loss. That's why we offer both full and partial dentures in Bardstown. Whether you are missing just one or two teeth or you have lost most of your natural teeth, we can restore your smile, your ability to chew and speak normally, and your self-confidence. Schedule a consultation today to see if you're a good candidate for dentures.
What Are Partial Dentures?
Partial dentures consist of one or more false teeth that are attached to a metal and plastic framework. This framework fits into your mouth and clips to your remaining healthy teeth, holding your dentures in place and ensuring you can eat, speak, and chew properly.
If you are looking for an affordable way to restore your smile after losing a few of your teeth, partial dentures are likely a good option. We can build your dentures quickly, and get you back to your day-to-day life in just a few weeks.
What Are Full Dentures?
Full dentures are intended to replace all of your teeth with false teeth. Usually, they are only recommended for patients who have lost all or the majority of their natural teeth. This is because, unlike partial dentures, they do not attach to your teeth. Instead, they fit precisely over your gums and are held in place with friction.
This also means that you must have all of the remaining teeth extracted from the upper arch, lower arch, or both arches of your mouth extracted before you can have a set of full dentures made.
What Can I Expect From The Dentures Process?
The process will take several appointments over a period of a few weeks at Walton Family Dentistry. If you are getting full dentures, you'll need to have your remaining teeth pulled before you can have your dentures made.
At your first appointment, Dr. Michael Walton will take impressions of your teeth and gums and images of your mouth. This information will be sent to an outside dental lab. They will create a mockup of your denture, which will be sent back to our office. This may take a week or more, so you'll be sent home. If you're getting full dentures, we will provide you with a set of temporary dentures to wear.
Once your denture mockup arrives, you'll come back to our office and try it on. If it fits perfectly, your permanent denture can be made right away. Usually, though, Dr. Walton will have to make some adjustments, so it may take a few appointments to get a perfect, comfortable fit.
After the final design of your denture has been confirmed, it will be built and sent to our office. You'll come in for your final appointment. Dr. Walton will perform a final check of the denture, then provide you with instructions on how to properly care for your new dentures and your smile.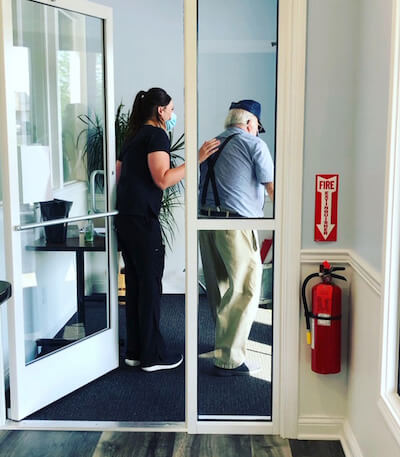 Am I A Good Candidate For Dentures?
If you are missing just a few teeth and are interested in restoring your smile quickly, partial dentures may be a great option for you. You can wear partial dentures temporarily until you can have a dental bridge or a dental implant placed, or you can choose to wear them on a permanent basis to restore your smile.
If you are missing the majority of your teeth due to serious oral health problems, full dentures are likely the best option for you. To find out if you are a good candidate and to begin preparing to have your dentures made, we recommend scheduling a consultation with Dr. Michael Walton at Walton Family Dentistry.