Cosmetic Dentistry in Bardstown
If dull, uneven, or misshapen teeth are keeping you from confidence, cosmetic solutions can help you reclaim your smile. A bright, straight smile can positively affect your emotional well-being and your overall health, and cosmetic dentistry has more than just aesthetic benefits. It has been proven that patients who are proud of their pearly whites will take much better care of them with proper hygiene habits. With our wide range of cosmetic options, Dr. Walton will give you a confident smile you'll be happy to take care of.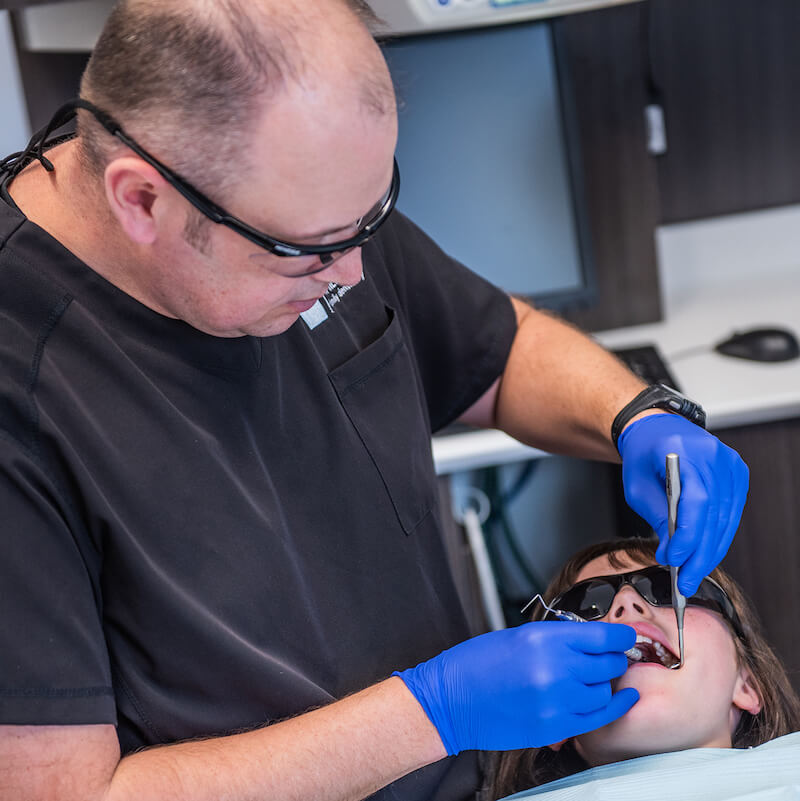 Teeth Whitening
Over time, our teeth become dull and yellow due to the natural aging process. Discolorations are even more pronounced if you drink coffee or wine regularly, or if you consume berries and other dark foods. Walton Family Dentistry offers teeth whitening to give you a brighter, more youthful looking smile. Whether you want to come in for a single whitening appointment or gradually brighten your smile with custom whitening trays in the comfort of your own home, we have options to meet your needs.
Bonding, Shaping, Contouring
If your teeth are discolored, slightly gapped, uneven, or have minor chips, dental bonding can improve your smile's appearance without invasive surgery or extensive time in the dentist's chair. The process of dental bonding is similar to a sculptor molding clay. Dr. Walton will apply a special dental resin to your tooth and mold it into the desired shape and size. When the resin hardens, it can be "painted" to match the color of your surrounding teeth for a seamless, beautiful smile.
Veneers
This versatile treatment can cover up many different cosmetic imperfections, including minor chips and gaps, misshapen teeth, and severe discoloration. Veneers are small, thin shells that are made to fit perfectly over your teeth and give them a more appealing appearance. A very thin layer of tooth enamel will be removed during the procedure, but the treatment is minimally invasive and requires no needles or surgery.
Why Would I Get Cosmetic Dentistry?
The best reason to get cosmetic dentistry is because you're self-conscious about your smile, and don't feel comfortable with how you look. If you're suffering from cosmetic dental problems like stained teeth, gaps in your smile, uneven or misshapen teeth, or slightly crowded or crooked teeth, cosmetic dentistry may be right for you.
If you don't feel good about how your smile looks, your self-confidence and self-esteem can be negatively affected. You may find yourself doing things like covering your mouth when you smile or laugh around others, avoiding eating with other people, or avoiding social situations where others may see you smile.
But with cosmetic dentistry, you don't have to hide yourself anymore. You can completely restore your smile, boost your self-confidence, and be your true self. No matter why your smile makes you feel self-conscious, a cosmetic dentist like Dr. Michael Walton can help you get the help you need.
The Benefits Of Cosmetic Dentistry
The biggest benefit of cosmetic dentistry is that it can completely change the way you feel about your smile. You'll look younger, feel more confident, and be able to smile proudly among others.
Not only is this great for your personal life, but it can also help you in business if you work in a position where you often present to others, meet clients, or otherwise have a lot of "face time" with customers and other individuals.
Cosmetic dentistry can also help improve your oral health. A straight, even smile is easier to clean, which means it's easier for you to brush and floss thoroughly. We find that our patients are also more likely to brush and floss regularly after they've invested in cosmetic dental care.
Cosmetic dentistry is surprisingly affordable, too. Procedures like teeth whitening and dental bonding allow you to completely restore your smile without breaking the bank, and at Walton Family Dentistry, we offer payment plans that can help you get the care you need on your terms.
How Long Do Most Cosmetic Procedures Last?
Mostly, the lifespan of your cosmetic dental treatment depends on how well you care for your new smile. Here is an overview of the expected lifespan of a few basic cosmetic procedures.
Teeth whitening – You can expect your new smile to last you at least 1-2 years, but you can extend its lifespan by brushing and flossing properly, using a whitening toothpaste, avoiding drinks like coffee, tea, and wine, and seeing Dr. Walton for a six-month teeth cleaning and oral exam. Yearly whitening touch-ups at Walton Family Dentistry can also extend the lifespan of your bright smile!
Dental bonding – Dental bonding usually lasts about 5-10 years, but can last longer if you maintain good oral hygiene, and avoid using bonded teeth to chew hard foods like almonds and ice, or non-food objects like fingernails and pens.
Veneers – Veneers are the longest-lasting cosmetic treatment. They typically last 10-15 years, and can last longer with proper care. Veneers are more durable and less prone to chipping, compared to dental bonding.
Regardless of the treatment you choose, your smile will look bright and beautiful for years to come after you get cosmetic treatment at Walton Family Dentistry. Contact us now to schedule a consultation and get started.