Pediatric Dentistry in Bardstown
Nothing is more important than your child's health. Keeping your little one cavity-free and avoiding common dental health issues is the best way to ensure a carefree smile as your child grows. Routine pediatric appointments, cleanings, and exams will help you encourage proper hygiene habits at home and ensure that any dental issues are caught and addressed early. Regular visits will also get your child acquainted with dental appointments from a young age so they aren't fearful or anxious about the dentist when they get older.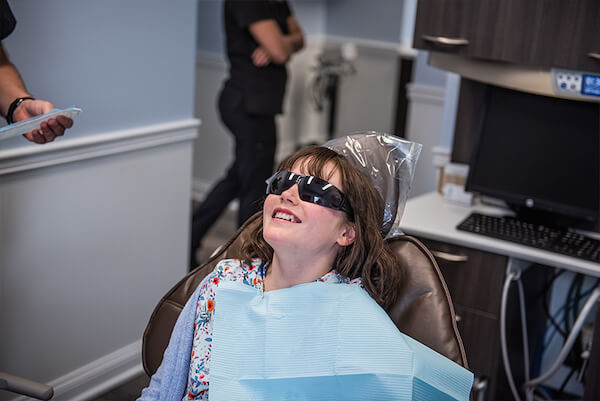 What To Expect At Your First Visit
What happens during pediatric appointments depends on the age of your child. For younger children, Dr. Walton will examine their teeth and gums, ensure that their oral development is on track, and check for cavities. Older children and teenagers will receive a gentle cleaning, and depending on what Dr. Walton sees during their exam, he may recommend x-rays to get a more thorough picture of your child's dental health. No matter how old your child is, you can trust that they will receive friendly, compassionate care at Walton Family Dentistry and that our team will go above and beyond to make sure they enjoy their appointment.
The Doctor/Patient Relationship
We are a relationship-based practice, which means that we take the time to get to know you and your family so we can provide highly personalized care and an optimal dental experience. Developing a meaningful relationship with Dr. Walton while your child is young will help us track their oral development and catch any dental health issues early on. As your local family dentist in Bardstown, Dr. Walton will enthusiastically introduce your little one to dental care and make each visit fun and informative.
Finding A Dental Home
Our team feels honored that you would consider Walton Family Dentistry for pediatric care. We strive to be a resource for parents in Bardstown when it comes to dental health, so we offer comprehensive pediatric services from fluoride treatments to root canals and emergency care. If you ever have any questions about your child's oral health and hygiene, don't hesitate to call or stop by! You can reach us at (502) 610-0151 and visit our office at 121 S Salem Drive, Bardstown, KY 40004.