A straightforward way to resolve pain and preserve damaged teeth with root canal treatment
Walton Family Dentistry in Bardstown, Kentucky, is privileged to care for patients from throughout Bloomfield, Mount Washington, Clermont, and greater Nelson and Bullitt counties as if they were beloved members of our family. At the heart of this approach are trusted relationships built on consistent, routine dental visits. As advised by Dr. Michael Walton, you can avoid the conditions that lead to the need for restorative treatments by visiting us regularly. And should damage to a tooth arise that requires treatment, you have peace of mind that the safety, appearance, health, and function of your mouth are in great hands.
Root Canal Therapy
Root canal treatment is a type of restorative dental procedure that, unfortunately, gets a bad rap. The truth is, root canal treatment may be the only way to preserve a badly decayed tooth. No type of tooth is superior in appearance and strength to a natural tooth, which developed properly and has remained healthy. Additionally, tooth replacement options are more costly, time-consuming, and less conservative than root canal treatment. Root canal therapy is also nothing to fear because:
It relieves pain and other distressing symptoms of severe inflammation and infection. Patients who have suffered from toothaches finally get relief and can focus on tasks, sleep soundly through the night, chew comfortably, and enjoy their favorite foods again!
The treatment itself is comfortable, efficient, and straightforward. We use gentle techniques and precisely-administered anesthetic for utmost comfort. We can also discuss relaxing sedative methods, such as oral conscious sedation, to support an optimal experience at our practice.
This standard process has a high success rate and can be compared to a "deep cleaning" for the inside of your tooth. Root canal therapy is a nonsurgical endodontic treatment. "Endodontic" refers to procedures to resolve damage present on the inside of a tooth. The process simply involves accessing the innermost part of the tooth. Then, diseased tissues are removed. The root canals are cleaned out, reshaped, and filled. Lastly, the treatment site is sealed off to prevent reinfection. Often, the treated tooth is restored to its attractive appearance and strength with a lovely dental crown.
Root canal therapy also has a high success rate exceeding 90%! Treated teeth should be cared for like healthy, natural ones – that is, with consistent good oral hygiene when away from our office and with regular visits to our office for professional cleanings and exams. Call (502) 610-0151 before troublesome symptoms, such as pain or swelling arise. Do not wait for problems to surface, as you can prevent many harmful dental conditions and associated symptoms with routine services.
Want to know more about root canals?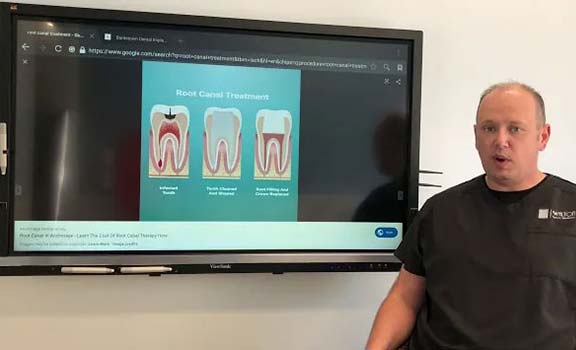 Hi everybody. I am Michael Walton of Walton Family Dentistry. If you've been told that you need a root canal, or think you may need this procedure, we're here to let you know that it's not as bad as people make it out to be. It's a routine process that we do right here in the office, where we're removing infected material from the tooth, cleaning out the tooth, and adding some material back in. It's a great alternative to loosen the tooth. If you have any questions, please call us, and we'd be happy to answer those for you.
Michael Walton, DMD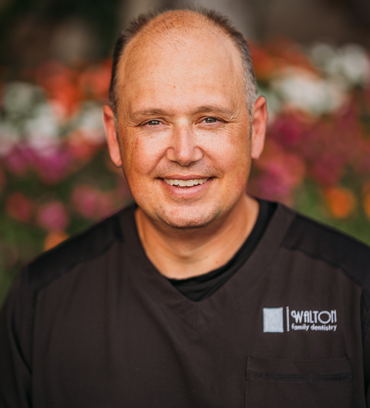 Dr. Michael Walton was born and raised in Bardstown, Kentucky. He loves offering superior dental care from his practice to members of his community. He wants to emulate his childhood dentist by making every dental appointment fun and memorable for his patients.

Dr. Walton offers modern, friendly dental care with a personable, communicative, humorous touch. He believes that everyone deserves a healthy and beautiful smile and works hard to ensure that his patients leave the practice feeling their best so that they would want to make someone else feel good.

When not working, he enjoys volunteering at The Nelson County Community Clinic.